Marine Territory
Korea-Japan Fisheries Agreement and Maritime Boundaries
When the width of the sea is not wide enough between two countries, as is the case for the Straits of Korea between Korea and Japan, it is not easy to draw the maritime boundary and this could lead to a dispute. In this case, countries can resolve the issue by turning to different options such as a fisheries agreement. For this reason, Korea and Japan signed a fisheries agreement in June 1965, and again in November 1998, after Japan unilaterally abrogated the agreement. Let's take a look at the context in which the second agreement was signed and what characteristics in has from the economic perspective.
Following the first fisheries agreement, the US and the Soviet Union declared 200 nautical miles for fisheries preservation zone in 1977. In the same year, Japan also announced its exclusive right to all resources within 200 nautical miles from its coast, setting a "Trawl Fishing Prohibition Zone." However, as the zone overlapped with the EEZ that Korea declared, fisheries dispute between the two countries deepened and the new Korea-Japan fisheries agreement was signed in 1998 to resolve the issue.
The new Korea-Japan fisheries agreement includes setting boundaries of EEZs, designating waters in the East Sea and southern waters from Jeju Island, controlling illegal fishing and establishing a joint committee for fisheries. The two countries agreed on 35 nautical miles for EEZ and decided to allow fishing in restricted zones as much as 150,000 tons for Korea and 100,000 tons for Japan at first, in consideration of previous performances of each country, then to revise it to equal amount after three years. (2002: 80,000 tons, 2003-2007: 60,500 tons, after 2008: 60,000 tons) Meanwhile, in accordance with Article 12 in Annex 1 of Korea-Japan treaty on fisheries, which took effect in 1999, when people or ships of other countries fish in waters between Korea and Japan, relevant domestic laws are not to apply, but measures taken on citizens and domestic ships in those waters should be informed to the other country. However, as Dokdo is clearly Korea's territory despite the fact it is located in the middle waters, it is impossible for foreign ships to fish within 12 nautical miles from Dokdo Island.
* Trawl Fishery: It is a type of fishing which catches fish by dragging the haul net underwater.
Korea-China Fisheries Agreement and Maritime Boundaries
Although Korea and China face one another with the Yellow Sea in between them, there has never been a formal agreement or special relations in terms of fisheries between Korea and China. In the 20th century when Mao Zedong line and Rhee Syng-Man line were declared by China and Korea, respectively, neither country recognized each other's boundary. When looking at the changes in fishing of Korea and China, more of Korea's ships entered China's waters for fishing until the early 1980s. However, from mid 1980s, more of China's ships began to fish in Korea's waters, and with a significant increase in that number, the issue of depletion of fish and damages to Korean fishermen rose to surface.
Meanwhile, there has been an exchange and cooperation between Korea and China in terms of fishing in the Yellow Sea at the local level even before the establishment of diplomatic ties. In 1989, Korea' National Federation of Fisheries Cooperation and China's Cooperation for Fisheries in East Sea and Yellow Sea signed an agreement on managing fishing vessel accidents at seas. This was actually a civil agreement on emergency escape, safe fishing, and accident management of fishing ships of Korea and China.
After establishing the diplomatic ties in 1992, Korea and China formally signed the Korea-China Fisheries Agreement in 2000 after holding series of meetings at the working level. The reason for the long consultation was with the difficulties in drawing the boundary as the width of the Yellow Sea was maximum of 280 nautical miles when the UNCLOS stipulates 200 nautical miles for EEZs. The text of the agreement between the two countries clearly states three items of preservation and use of marine life, maintenance of fishing order at sea, and stronger mutual cooperation in the area of fisheries.
The key message of the Korea-China Fisheries Agreement is 1) establishment of temporary zone (To jointly preserve marine life, the two countries manage this area together in ways such as limiting the number of fishing vessels), 2) establishment of transitional zone (After four years, this area gets automatically transferred as EEZ of each country), 3) mutual cooperation in rescue and emergency evacuation, and 4) establishment of joint fisheries commission. As a result of this treaty, China is limited from fishing in Korea's waters and Korea is also unable to fish in the Yangtze River, which is also called the golden fisheries. Although there may be complaints from the fishing community of both countries, it has a positive aspect in that it can preserve marine resources in East China Sea in the long term.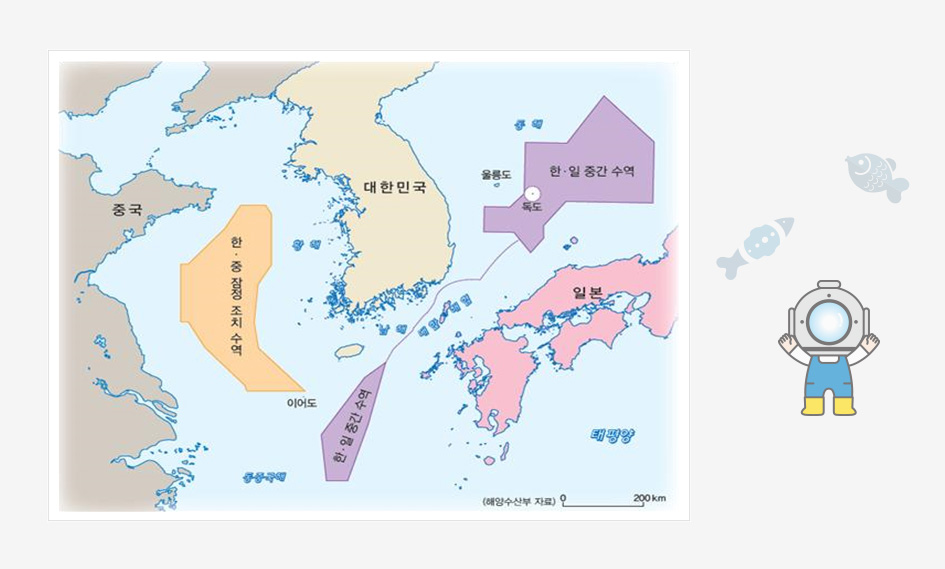 ※ The texts were written based on the outcome of "development of marine territory educational and promotional data" project pursued by the Korea Maritime Foundation in 2013.